Tokyo, July 1, 2021 - NRI SecureTechnologies, Ltd. (NRI Secure), a leading global cybersecurity company, announced that it has received three awards from global cybersecurity leader CrowdStrike Holdings, Inc.'s 2020 Asia-Pacific and Japan (APJ) Partner Awards on May 31, 2021. These awards recognize the innovative spirit of NRI Secure's "Managed EDR Service," a MDR service that leverages the CrowdStrike Falcon® platform.
■Awards
- APJ MSP* Partner of the Year 2020
For the MSP partner who contributed most to CrowdStrike's sales and support in the Asia-Pacific and Japan region.

- Friend of CrowdStrike 2020
For the CrowdStrike partner who contributed most to new sales in Japan.

- Best Partner SE of the Year 2020
NRI Secure's Senior Security Analyst Kensuke Masaki for his contribution to the sales and support of CrowdStrike in Japan.
*MSP: Managed Service Provider
■Comments from CrowdStrike
"We are delighted to honor the efforts of our valued Japan partners in our annual APJ partner awards. 2020 has been a challenging time for many organizations, particularly from a cybersecurity perspective. To safely navigate through these difficult times, organisations need managed security providers like NRI Secure that they can rely on and trust, using the world's leading endpoint and workload protection technologies. It's great to have so many high quality, committed CrowdStrike partners like NRI Secure assisting their customers and keeping them safe during 2020," said Tetsuya Kawai, Country Manager, CrowdStrike Japan.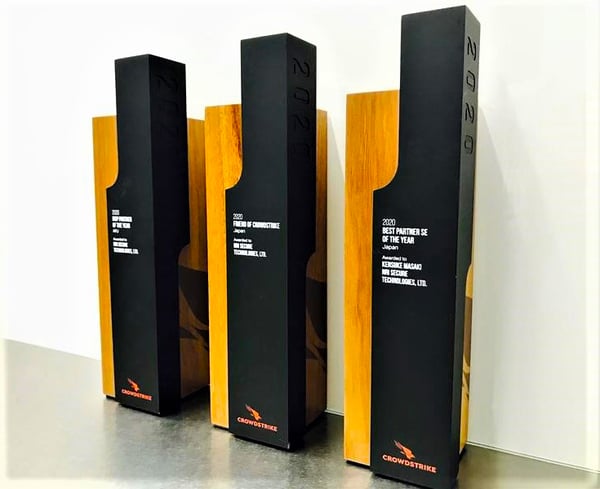 NRI Secure first introduced its Managed EDR Service utilizing the CrowdStrike Falcon platform in 2017. The Falcon platform has reinvented how endpoint security is delivered with its industry-leading, cloud-native architecture. It is used by many companies around the world to secure organizations against cyberattacks, which have increased in frequency and sophistication in recent years.


For more information on NRI Secure's Managed EDR Service, please visit:
https://www.nri-secure.com/managed-detection-and-response-service/endpoint-monitoring

For more information on CrowdStrike, please visit:
https://www.crowdstrike.com/


NRI Secure will go forward to provide a variety of services and products that assist companies and organizations with their data security measures, contributing to the creation of safe and secure data systems for environments and societies at a global scale.
About NRI SecureTechnologies
NRI SecureTechnologies is a subsidiary of Nomura Research Institute (NRI) specializing in cybersecurity, and a leading global provider of next-generation managed security services and security consulting. Established in 2000, NRI Secure is focused on delivering high-value security outcomes for our clients with the precision and efficiency that define Japanese quality. For more details, visit us at https://www.nri-secure.com.
Media Inquiries :
Public Relations, NRI SecureTechnologies, Ltd.
E-mail: info@nri-secure.co.jp