NRI Secure Receives Frost & Sullivan Japan Managed Security Service Provider of the Year Award
Tokyo, Japan-June 30, 2017- NRI SecureTechnologies, Ltd. (NRI Secure), a leading global provider of information security solutions, received 2017 Japan Managed Security Service Provider of the Year Award from the research and consulting firm, Frost & Sullivan.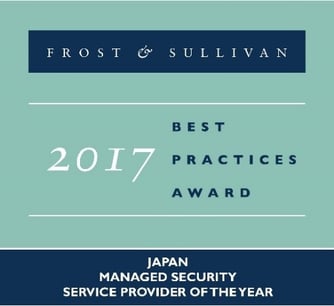 The Awards recognize companies that have demonstrated outstanding performance and superior services in the preceding fiscal year, and are given by Frost & Sullivan analysts who evaluate market participants on the basis of five selection criteria: market share, sales and revenue growth, business development strategy, breadth of services portfolio and innovative solutions, and leadership in product and technology innovation.
In response to the rapid adoption of IoT (Internet of Things) in recent years, NRI Secure has been expanding its services into new domains, and providing a broader range of security services, while being lauded as a leader in the Japanese managed security services market.
For more information about NRI Secure's Managed Security Services, please visit the following websites;
Firewall Network Center (FNC)"
https://www.nri-secure.co.jp/service/mss/index.html
Security Log Monitoring Service"
https://www.nri-secure.co.jp/service/mss/log_monitoring.html
NRI Secure continues to provide a variety of products and services for supporting companies and organizations in their information security goals, and contributing to the creation of a safe information systems environment and society on a global scale.
About Frost & Sullivan
Frost & Sullivan, the Growth Partnership Company, works in collaboration with clients to leverage visionary innovation that addresses the global challenges and related growth opportunities that will make or break today's market participants. Our "Growth Partnership" supports clients by addressing these opportunities and incorporating two key elements driving visionary innovation: The Integrated Value Proposition and The Partnership Infrastructure.
About NRI Secure
NRI SecureTechnologies is a subsidiary of Nomura Research Institute (NRI) specializing in Cybersecurity, and a leading global provider of next-generation managed security services and security consulting. Established in 2000, NRI SecureTechnologies is focused on delivering high-value security outcomes for our clients with the precision and efficiency that define Japanese quality.
---
Media Inquiries:
Hitomi Nemoto
NRI SecureTechnologies, Ltd.
Public Relations
TEL: +81-3-6706-0622
E-mail: info@nri-secure.co.jp
Award-Related Inquiries:
Haruna Nishi
NRI SecureTechnologies, Ltd.
Cyber Security Services Division
TEL: +81-3-6706-0622
E-mail: info@nri-secure.co.jp